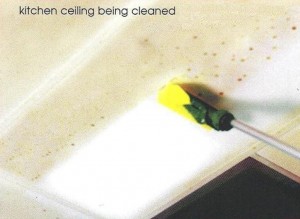 Denver and Colorado Springs Ceiling and Wall Cleaners
Getting Started. Obviously the first step is the easiest; take a look up at the ceiling above you. Next, you have to make a decision. Is that ceiling dirty? stained? unsanitary? or just old?
The answer isn't always readily apparent, with nothing to compare with what you are seeing. We all know that any porous surface like ceiling tiles will absorb dirt, smoke, grease, amino and fatty acids, micro dust, bacteria…. Even if the affects aren't visible. Some signs of a dirty surface are odor, reduction in reflective properties or even transmission of germs, not to mention a poor appearance in your place of business. Even nonporous surfaces collect dirt, grease and bacteria which can be unsightly and unsanitary.
Have these surfaces been cleaned recently?  Ever?  Has the space always been used for the same purpose as it is used now? Was smoking allowed? Were hair and nail products used?  Was it a kitchen or is it still?
So at some point I think we can agree that these surfaces need to be cleaned sanitized and deodorized. How are you going to accomplish that? Get on a ladder? Use a scrub brush? Cleaning chemicals? Are they hazardous or leave residue that will attract more dirt, or even destroy flame spread rate? Can you get it done along with everything else that you already have to get done? Will cleaning these surfaces cause disruption to business?
I have the best answer to all of those questions! The answer is simple!
Call CLS Services LLC  303-880-1514 and have Chris come out and do a free demo or simply schedule a crew. This system has been used safely and affectively for over 25 years, to clean sanitize and deodorize ceilings and walls for businesses like McDonalds, Applebees, Pizza Hut, Ramada Inn's, Disney World and many others. Take advantage of a 10% discount for first time clients and then continue to get 10% for any other client you refer. Cash in your pocket. Our services are performed at your convenience after your business is closed.  Our biodegradable EPA rated oxygenated cleaning solution does not leave odor or residue and is safe around and on all appliances, cooking surfaces, lights and diffusers and any other surface that we would get it on. Your space will be left clean and ready for use when your next shift begins, it all happens while you are away doing better things.
Saving money is easy when you choose to clean sanitize and deodorize your ceiling rather than replace or even paint it. Cleaning costs approx only 10% of replacement. Replacement can't be done while your business is open and it can be dusty. Cleaning using CLS Services LLC cost roughly half the price of painting. Painting actually is damaging to ceiling tiles and cannot be done while you are open either.
Call and get started now. It's not going to clean itself and it's not going to get any cleaner on it's own.